Names of Allah (swt)
This page lists some of the names of Almighty Allah (swt). These are ones often listed as the 99 names of Allah as derived from the Quran and hadith. Obviously the english translations can only approximate the meaning(s) of the original arabic names, which is why there is more than one translation listed often, to give you more of a grasp of the original.
"Cry unto Allah, or cry unto the Beneficent, unto whichsoever ye cry (it is the same). His are the most beautiful names." (Quran 17:110)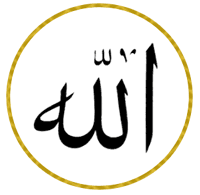 ALLAH - the Greatest Name
The name Allah contains five meanings, qualities that indicate the non-resemblance of Allah to anything else. They are:
Qidam:

He is before the before. He did not become, He always was.

Baqa:

He is after the after, Eternal; He always will be.

Wahdaniyyah:

He is unique, without partner, without resemblance, the cause of all. All is in need of Him, all has become by the order "BE!" and has died by His order.

Mukhalafatun lil-hawadith:

He is the Creator, bearing no resemblance to the created.

Qiyam bi-nafsihi:

He is self-existent without any needs.